Introducing myHuisman©
A state-of-the-art digital customer portal
Huisman, a prominent maritime industry leader, specializes in the construction of offshore equipment, including immense cranes, cutting-edge wind turbine tools, and state-of-the-art pipelay systems. With a global presence, Huisman has established itself as an industry innovator. To enhance their customer service even further, Huisman recognized the necessity of developing a digital customer portal as an extension of their already superior customer support. They enlisted the expertise of Fenego and the Intershop Commerce Platform to bring their vision to life.
Result
360 customer view portal
Digital servitisation approach
USP features for heavy construction
Technical libraries & support
Technology
Azure cloud
Intershop 7.10
Microservices
Mission
Answering the call for digital transformation
The maritime industry is experiencing a remarkable shift towards digitalization, and Huisman, with its forward-thinking approach, is at the forefront of this transformation. Recognizing that their international clientele faced limitations in placing orders through traditional means such as phone calls and emails, Huisman identified the pressing need to digitize their workflow. In pursuit of this objective, Huisman embarked on a quest to find the perfect partner.
Solution
Transformative partnership: Embracing Fenego and Intershop
Fenego quickly distinguished itself as the ideal implementation partner, showcasing exceptional technical expertise and vast experience. Drawing upon their extensive expertise, Fenego actively guided Huisman in selecting Intershop as the commerce platform that perfectly matched their requirements for a B2B shop with a B2C appeal. Furthermore, Intershop aligns with the architectural vision of Huisman and seamlessly scales in accordance with their long-term ambitions.
Solution
Uniting commerce, service, and knowledge
The objective of Huisman in creating the digital portal myHuisman© was to develop an intuitive environment where their clients can manage all their equipment and effortlessly place complex orders. This portal consists of three distinct digital services.
Firstly, there is an extensive online shop, offering a seamless ordering experience for equipment components. Additionally, a service section is available, enabling customers to request quotations, maintenance services, inspections, or training. Moreover, it serves as a hub for addressing any other commercial or technical inquiries they may have. This service section is seamlessly integrated with the customer service platform Zendesk, enabling Huisman's account managers to handle and track requests efficiently. Both Huisman and the clients can add new information to the requests, ensuring highly interactive communication.
Lastly, a technical library forms the final pillar of the portal. In this library, clients can access all the documents related to their equipment, including manuals, technical drawings, and certificates. This empowers them to organize and manage all the information and interactions with Huisman through the myHuisman© portal.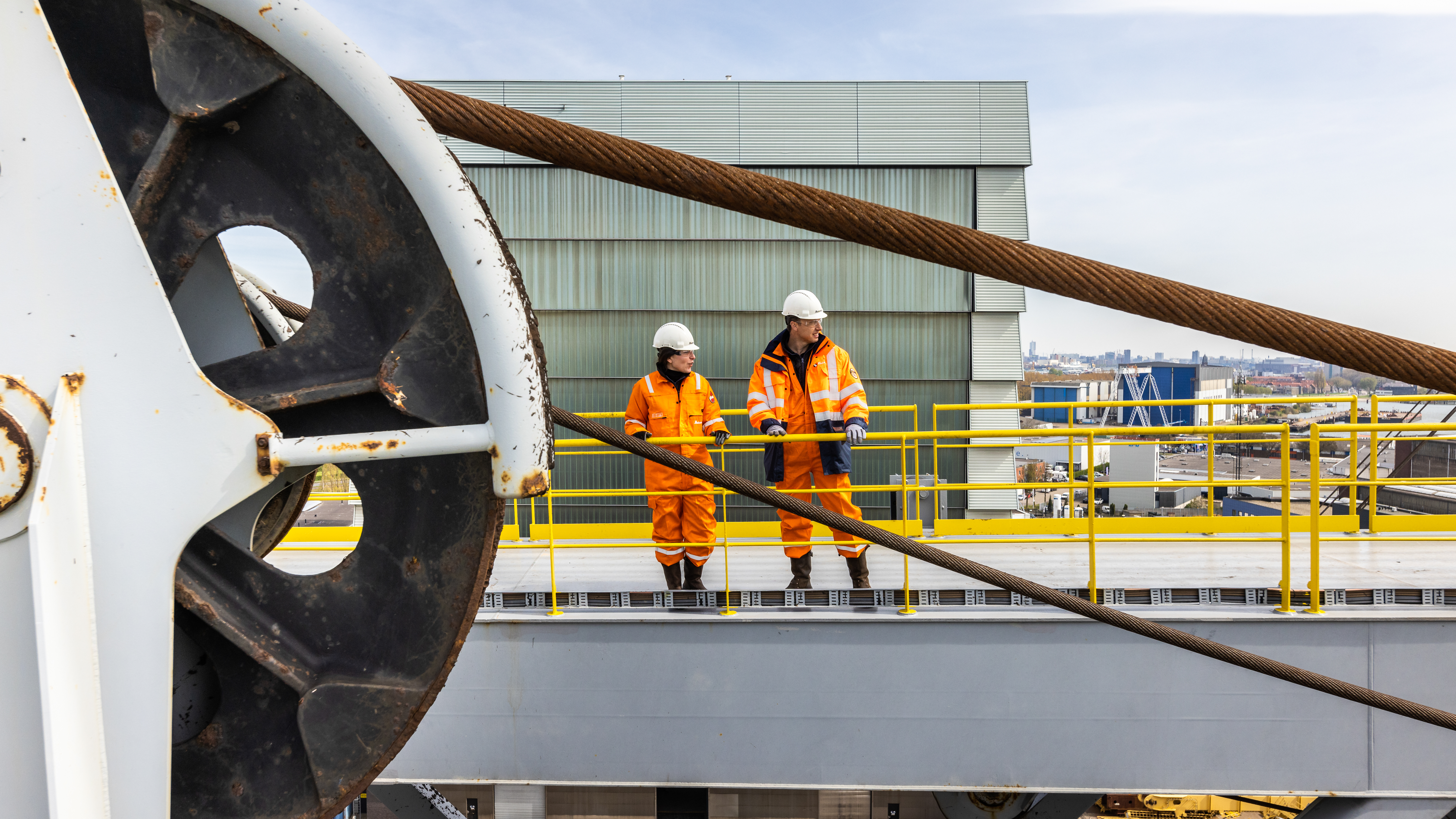 Solution
From workshops to a digital portal
At the initiation of the project, Fenego commenced with a thorough and detailed analysis phase in collaboration with Huisman. Several interactive workshops were conducted to identify the technical and functional requirements of the portal. Throughout these workshops, careful consideration was given to aligning these requirements with the extensive array of features offered by Intershop.
After the analysis phase, the implementation phase was initiated, employing an agile Scrum methodology. This flexible approach involved short development cycles, known as sprints, enabling Fenego to present demos to Huisman early in the implementation phase. This allowed for quick adjustments, ensuring the result fully met Huisman's needs. Furthermore, internal stakeholders were actively involved and kept informed of the project's progress.
During the implementation phase, the foundation of the portal was established, followed by the gradual addition of additional functionalities. Fenego utilized a DTAP (Development, Testing, Acceptance, and Production) environment in conjunction with Intershop Commerce as a Service (CaaS). This approach minimizes risks, enhances quality, and facilitates collaboration, thereby positively impacting the targeted time-to-market.

In terms of technology, the latest Intershop PWA (Progressive Web-App) technology was employed. This PWA, based on Angular and developed by Intershop, offers easy expandability. This approach empowered Fenego to quickly achieve results and transform the storefront into a comprehensive digital portal that fulfilled Huisman's requirements.
Result
More efficient and futureproof
And the feedback? Following its launch, the portal has received widespread acclaim, both from customers and internally among Huisman stakeholders. A comprehensive survey reveals that Huisman's customers are highly satisfied with the user-friendly digital portal, which enables them to efficiently manage all communications and access relevant information about their equipment. Additionally, Huisman employees are delighted with the new workflows, such as the centralized customer service that can now handle all types of inquiries on a single platform. In summary, the key customer processes have become significantly more efficient and faster since the launch of myHuisman©.
Future
Leading the change
The prospects for Huisman are extremely promising, and this is just the beginning! With the forward-looking myHuisman© platform, now available, Huisman can further optimize their services to customers. This will strengthen their leading position in the maritime sector and serve as an inspiration to other players in the industry. Fenego will act as an experienced guide in the challenging world of digital services and e-commerce, both for Huisman and for other companies seeking digital transformation.
Contact us
Want to know more about this technology or the projects we use it for? Don't hesitate to contact us for more info! Reach us by email or fill in the form below.